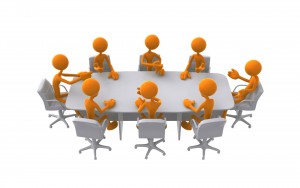 Reporting to your steering committee might be the one thing that you should always give your full attention. These are the people who expects you to handle their project and make sure that it is steered safely to target… And if they do not trust you, they might replace you. Therefor you should never try to hide risks, issues, budget problems or milestone changes. Get it out into the open so that they know you need their help.
Your report has three functions that you should always keep in mind;
It should give the steering committee a complete overview of the state of your project.
It should give the steering committee the ability to focus their efforts on project issues that needs their attention.
And it should give the steering committee the ability to make calculated decisions in regards to the projects issues.
When to report?
If possible, you should send a report to the steering committee once a week – You can help yourself and make it a reoccurring event in your calendar.
You might have steering committee meetings once every two week, once every month or similar, all depending on your project, but you should always make sure that the steering committee receives the report at least 24 hours before the next meeting.
Sending the report at least once a week, means that you need to keep it short and effective. No one will read a 10 page report if it is send every week… Besides, you would end up doing nothing but writing reports. Instead, keep your report to a maximum of two pages and whenever possible communicate in KPI's and bullet points.
Things that you need to include but can't be kept at two pages should be put in as an appendix – E.g. a timetable, burn down charts, financial reports etc.
What should go in a steering committee report.
So, what should go in a report. Well, there are seven things you need to focus on as a minimum. These are:
Executive summary.
Make sure the report always have a KPI summary at the top of page one, to give an overview of where there might be problems that needs the committee focus. E.g., budget changes, changes to milestones and so forth.
Progress.
Here you should make an indication of resources spent to date, how many resources are needed before you are done and how this adds up to your original estimates. Let the steering committee whether or not you are on track.
Budget.
Present a statues of your current budget situation and your expectations – calculate how much is spent to date and add it to the remaining budget for completing the project. Afterwards compare it to the budget previously approved by the steering committee – Do you lack funds then let them know.
Timeline.
Only put in a description of the changes that has been done to the timeline since your last meeting – And keep the entire timetable as an appendix to the report. If no changes has been done since the last meeting, you should put in the report "no changes done" and leave the timetable out.
Resources.
Does the project have the right resources? Do you need a person with a special set of skills? Do you have enough resources to complete on time? (e.g., you have 3 developers but need 7 to make the deadline). Also, let the steering committee know if you have resources that aren't useful to your project, so that they can be put to other tasks and doesn't drain your budget (e.g. you have five digitale designers but only need one of them part time).
Risks.
Here should go the five biggest threats to your project, which you have not handled yet. There might be several more risks to your project, but you should only put in the five most pressing.
The project managers concerns
This is where you as a project manager can rise concerns that you can't really relate to the focus points above – E.g., the steering committee needs to meet once a week instead of every month or maybe lack of input from the accounting department on expenses is becoming a problem in your reporting etc. In other words , this is where you can tell the committee things that affect your project, but is not a direct risk to it.